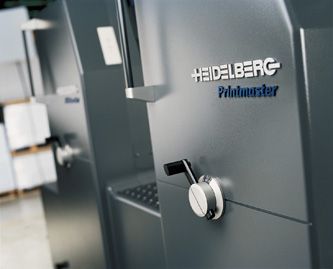 We are proud of the equipment list we have managed to compile through the years. It represents the best offerings from such names as Heidelberg, Polar, MBO, Duplo, Horizon, Miehle, AB Dick and Konica Minolta to name a few. But what does this mean to you, our customer? It means that your job will be the best it can be.
Copy Center
Our copy center is state of the art. Powered by Konica Minolta the possibilities are endless. Offering both color and black and white reproductions with the following inline automations; drilling, spiral punching, GBC punching, saddlestitched booklets, stapling, tabs and more! Also bring your documents by to use our scan to file feature available in both color and black and white. This is great for getting large manuals converted PDF format for easy viewing. Looking for Variable Data or Mail Merge output? Give us a try today!
Graphic Design/Prepress
Our designers and prepress technicians have the task of making you look good in print. We work in both PC and Mac formats utilizing the latest in design programs from Adobe and Quark Xpress. To transfer your design to the pressroom we use computer to plate technology from Heidelberg. This delivers excellent quality at 2540dpi with linscreens up to 175lpi ensuring smooth transitions in screening and excellent detail!
Pressroom
We have a well rounded array of equipment in our pressroom. To service our customers who require spot color duplicator work we have several AB Dick 9800 series presses with T-Heads. They allow us to print multi color work like letterheads, carbonless forms, envelopes and business cards.

Our Thermotype machine allows us to print a multitude of raised printed items in house. Most printers outsource these items, not here! This allows us to be in complete control of your orders not at the mercy of a trade shop.

For our larger volume or high quality orders in need of full color or heavy ink coverage we utilize our Heidelberg PM 52 four color press. Printing at speeds of 13000 sheets per hour we can get your jobs done quickly without compromising quality.
Bindery/Finishing
No job is done until it is finished! We take a lot of pride in the bindery and finishing capabilities of our shop. Below is a list of equipment that allows us to cut, fold, bind and drill your projects.

Polar 36" programable cutter
2-Miehle Verticle Letter presses ( Die Cutting, Numbering, Scoring , Perfing )
1-Heidelberg Windmill Letterpress ( Die Cutting, Numbering, Scoring , Perfing )
Rollem Machine (Number, Score, Perf )
MBO Folder
Duplo Saddlestitch Bookletmaker
Horizon Collator Saddlestitch Bookletmaker
24" Laminator
3 Hole Drill
2 Stitchers
3 Spiral Binders
2 GBC Comb Binders
Shrink wrapper

This equipment gives us the tools needed to put the finishing touches on your printed material.